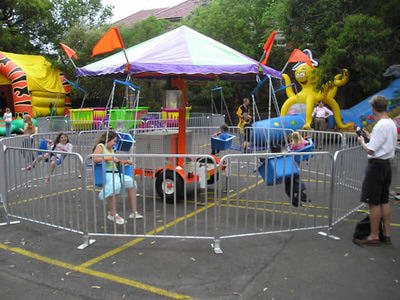 Kiddie Swing
Heres our 6 Seat Kiddie Swing.
Priced $460 for 2 hours (2 hour minimum) and for every addtional hour $125.00
Our Kiddie Swing seats 6 kids. We have a speed control dial for better control of the the speed of the swing to better accomodate smaller kids. Attendant and barracades are in place for safe enjoyable fun.
This swing is awesome for house parties, school function, church events, city events, fairs or just keeping the kids busy.
Safety Features:
Attendant
Speed Control
Emergency Stop
Baracades
Safety Bar
Seatbelts
All prices include delivery(local) and setup
Follw us on FB: KLH INFLATABLES
Follow us on IG: @waterslides_spacewalks
Add Ons: Party Train, Tubs Of Fun, Krazy Twister, Tea Cup Ride, Gyro Extreme. Bounce House, Spacewalk, Dunk Tank, Waterslides, Kiddie Rides, Concession, Tables, Chairs, Generator, Party Character, Bubble Machine, Bubble Maker, Kiddie Fun