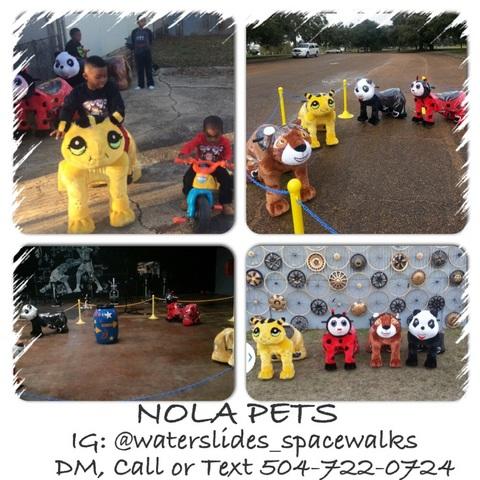 Toddler Motorized Pets
Heres our Motorized Pets
3 Pets for $200 for 1 hours and for every addtional hour $100.00
Our NOLA Pets rides one or two smaller kids per pet. The pets are battery operated for safe and quite indoor use. The pets can be rode indoors, concrete, asphalt and more. NOLA Pet ride allows adults to "watch" their kids enjoying the ride as well as the kids having a blast. Attendant and barracades (if Needed) are mounted in place for safe enjoyable fun.
NOLA Pets is awesome for house parties, school function, church events, city events, fairs or just keeping the kids busy.
Safety Features:
Attendant
Timed Rides
Emergency Stop
Baracades (if Needed)
NO EATING OR DRINKING ON THE RIDE.
Follw us on FB: KLH INFLATABLES
Follow us on IG: @waterslides_spacewalks
Add Ons: Party Train, Tubs Of Fun, Krazy Twister, Tea Cup Ride, Gyro Extreme. Bounce House, Spacewalk, Waterslides, Kiddie Rides, Concession, Tables, Chairs, Generator, Party Character, Kiddie Rides, Bubble Machine, Foam Machine